In my series about Modern Infrastructure for your Virtual Development Server I will now start my Server with Vagrant in VirtualBox on Windows. Again I will use Jenkins as example for this. See how this works.
Here you see the architecture overview: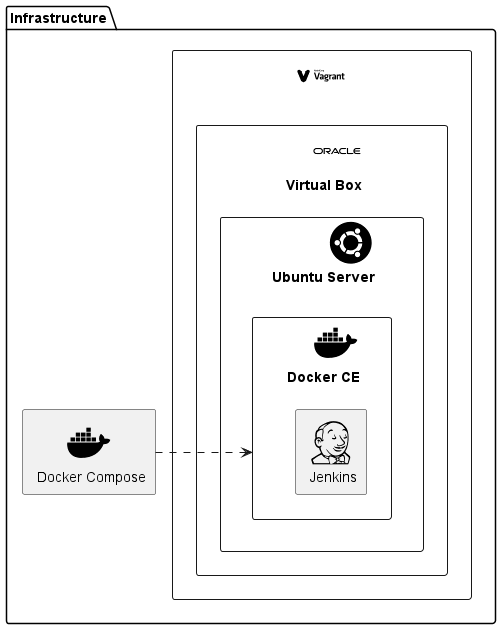 I use this architecture here in windows, but it should work similar on all environments, where Vagrant and VirtualBox is available for.
Via this Vagrantfile I create my infrastructure:
Vagrantfile
Vagrant.configure(2) do |config|
  config.vm.box = "bento/ubuntu-22.04" (1)
  config.vm.network "forwarded_port", guest: 8080, host: 8080 (2)
  config.vm.provider "virtualbox" do |vb|
    vb.name = "DevelopmentServer"
    vb.customize ["modifyvm", :id, "--cpus", "2"] (3)
  end
  config.vm.provision "shell"  do |s|
    s.path = "bootstrap.sh" (4)
  end
end
| | |
| --- | --- |
| 1 | Use a Ubuntu box with vagrant user preinstalled as official boxes does not have vagrant user and some other operating systems require Docker EE. |
| 2 | Forward the port from Jenkins Docker container to my local host. |
| 3 | Workaround "kernel panic" issue with current VirtualBox version by configuring at least 2 CPU's. |
| 4 | Call provisioning script for installing Docker itself and the Jenkins Container. |
Vagrantfile
#!/bin/bash
(1)
sudo apt-get update -y
sudo apt-get install -y \
    ca-certificates \
    curl \
    gnupg \
    lsb-release
sudo mkdir -p /etc/apt/keyrings
curl -fsSL https://download.docker.com/linux/ubuntu/gpg | sudo gpg --dearmor -o /etc/apt/keyrings/docker.gpg
echo \
  "deb [arch=$(dpkg --print-architecture) signed-by=/etc/apt/keyrings/docker.gpg] https://download.docker.com/linux/ubuntu \
  $(lsb_release -cs) stable" | sudo tee /etc/apt/sources.list.d/docker.list > /dev/null
sudo apt-get update -y
sudo apt-get install -y docker-ce docker-ce-cli containerd.io docker-compose-plugin
sudo service docker start

(2)
pushd /vagrant || exit
sudo docker compose up --detach
| | |
| --- | --- |
| 1 | Install Docker Engine on Ubuntu as described here |
| 2 | Change to automatically mapped source directory and start the Docker Compose file. |
From the directory of your files you can now use following commands to control your Development Server:
The first start needs some time, as the provisioning takes place one time.
If you start your server you should see the following in the Docker Desktop Console: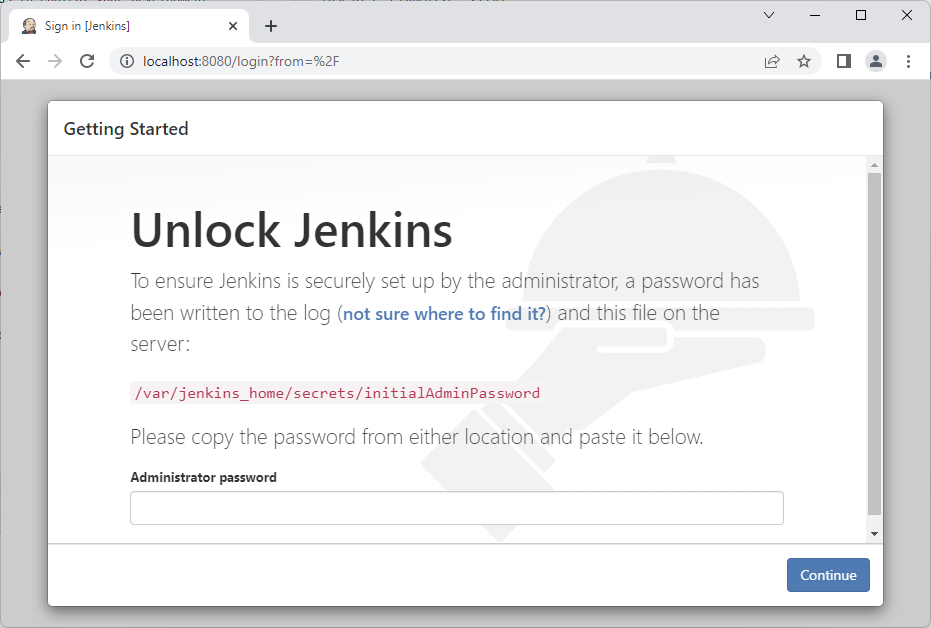 How do you get now the initial password?
vagrant ssh (1)
sudo docker ps (2)
sudo docker exec -it vagrant-jenkins-1 more var/jenkins_home/secrets/initialAdminPassword (3)
| | |
| --- | --- |
| 1 | open console to your VirtualBox guest |
| 2 | list the runnung docker Container, in my case vagrant-jenkins-1 is the name listed for my container under the names columns there |
| 3 | show the initial password from the mentioned path in the screenshot |
You find all sources on GitHub.